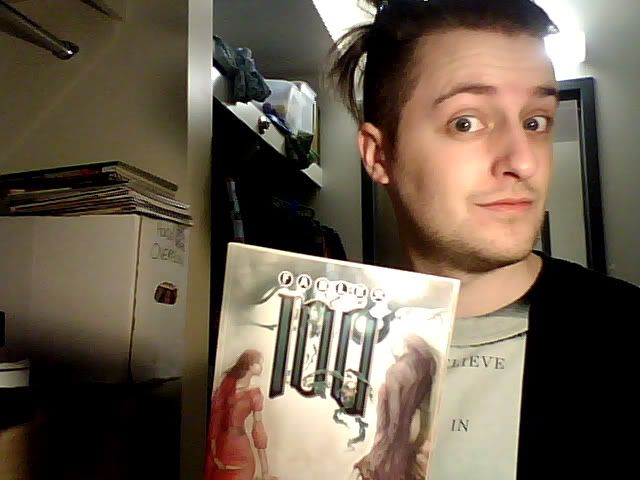 I love shopping. Specifically sales shopping. I literally have dreams of amazing sales a week before I actually go to one. I firmly believe in the power of retail therapy, but I'm also cheap. My cheapness is actually on my back right now: My black skinny jeans from Hot Topic? $20, normally priced at $40. $40 being a price I have never and likely will never pay for pants. My The Crow shirt? $5, normally priced at $20. If I'm paying full price for a shirt then it had better look that damn good. While I'm good about being frugal during my college existence, I do have my weak points where I need to splurge, and one of those is comics books. A comic book
sale
? Oh I'm there. And yesterday, I was SO there.
I've mentioned
before
that I love
Coast City Comics
because they completely satisfy my need for discount comics with their quarter bins and %50 off used graphic novels. Well, yesterday they had a sale that blew my mind called
Comikaze
which included, but certainly was not limited to: free comic books, 25% off everything, buy one new comic get one free, 75% off select used trades, and buy one $1 dollar comic get one free. I spent the week reciting these sales to myself; I was that excited.
Also, I need to mention that this past Tuesday was my birthday, December 7th a birthday I share with Jessica Drew [Spider-Woman Origins #1], so I had birthday money to burn on this sale. And oh did I ever. Here's the summary of my treasures that day:
Buy one new comic get one free:
Fables #88, 95-98, and, most importantly,
Fables #100
which you will see reviewed here very soon!
Free Comics:
All those first issue for $1 comics that you see at your shop? In this pile with a number of amazing comics (Alias, Birds of Prey, Robin, and so many more). Notable ones I got from this pile include:
Ex Machina #1
Hellstorm #1
I Kill Giants #1
Jack of Fables #1
Madman Comics #1
Planetary #1
Sin City #1
Ultimate X-Men #94
Witchblade #1
$0.25 Comics, a regular feature, but greatly expanded in selection.
In total I got 50 issues from here, remarkable issues including:
American Virgin #1-4
Avengers the Initiative #35
Siege: Young Avengers #1
Super Market #1-2
The Walking Dead #19
LOTS of 90s-era X-Factor
X-Treme X-Men #41
$0.50 Comics or buy one $1 comic get one free:
In total I got 82 issues from here, remarkable issues including:
Alias #16-28
Civil War #1-7
Demo #1
Doom Patrol, 2 issues during Morrison era.
About %75 of The Invisibles.
Sandman #60-63
Thunderbolts #110-120
X-Men #31-32
75% off select used graphic novels:
Freakangels vol. 1 HC
50% off used graphic novels (A normal feature of the store):
Fables: Story Book Love
The Authority: Earth Inferno
The complete total of issues, were I also to add from the trades as well, comes out to 178 issues. How much did I pay? $91.
That's like $0.50 an issue.
If these issues were normally priced at around $2.99, the grand total would have been: $535.
Normally, I would never splurge so hardcore on comics, but as you can see I spent $100 and saved $450. So yeah, I just wanted to tell you all about the massive sale I hit because you are all comic book people as well and I imagine you'd appreciate that amazingness of the sale I hit.
Also, it gets better:
The shop also had a raffle going on for six items. One of them being Sandman: Endless Nights autographed by Neil Gaiman. And I FRIGGING WON IT! I'm going to get it on Wednesday before my last final.