Uncanny X-Men #530
Writer: Matt Fraction
Artist: Greg Land
Before we begin, can I ask what is up with all the good/important X-Titles being released this week? Who at Marvel thought this was a good idea? I'm thinking a constant feed of X-Men works much better than just having one week a month where everything comes out.

This issue marks the welcome return of Greg Land to Uncanny which is a big improvement to Portacio awkward rape faces and characters who seem to have perpetually fried hair. Some of you may not be glad to see the return of Land, but let's think of it in the context of Uncanny: So long as Fraction is writing it in any form, it will always be shit and Land, while a horribly controversial artist, produces images that are worth lots of laughs. So if I'm going to be suffering this shit in attempting to keep in the know of what's going on, I at least welcome some unintentional humor along the way. Also, his issues tend to be more colorful.

The opening of this issue starts with Emma going over how important Shaw is for the hundredth time and then telling Fantomex and Shadowcat how she explained their departure to Cyclops. Basically, she used a flimsy shopping excuse that he didn't buy. She'd have had better luck just not telling him. Oh and, because this is Land, she's naked during this conversation with Cyclops. Yeah, Emma Frost, master manipulator and professional liar, really has trouble coming up with convincing explanations for three people's absence. Good heavens it appalls me how little respect Fraction has for female characters, but more on that later.

The big plot of this issue is the big release of HX-N1 disease that's infecting a decent amount of Utopia including, OMG WAIT FOR IT......WOLVERINE!!! OMG WHAT?! I thought his power levels were over 9000?! Yeah, we're doing a deadly mutant virus....again! Which is also a total ripoff of the swine flu hype! I understand there are only so many X-Stories to be told, but do we really have to put up with such obviously recycled crap? Speaking of recycled:

I know we've all seen this basic image before considering it's Copy and Paste Land, but is this really considered a desirable body? Big shoulders with a tiny waist? Is this what macho men want? To look like big pizza slices?

So yeah, there's also something uninteresting deal with the Collective Man as well as the guy whose working with Sublime or whatever and is now making his own faux Original Five X-Men. Nobody really cares and also, how many times do we have to have a group based around being like the Original Five? Again: It's played out now, let's at least move on to emulating the All-New All-Different group. Also, a little panel that popped up during the Faux Five introduction:

Does this panel makes you guys uncomfortable? It certainly makes me uncomfortable, like holy fellatio, how did this get past the censors?

Moving back to the virus issue, Cyclops tries to contain the situation by holding Utopia under quarantine and also calling a press conference, conducted by Archangel and I'm guessing Val Cooper, that basically just scares everyone and makes faint prejudices come out. Did the press really need to be informed? That island's fairly isolated, especially under quarantine, they actually could get away with not telling anyone until it becomes a big deal. Meanwhile, Dazzler and Northstar get the news, Daz being fabulously dressed up like the biggest fag hag this side of the Marvel Universe, and Daz is actually excited to be one of the remaining outside X-Men despite the fact that it means people are ridiculously ill. K, this is where we return to Fraction having no respect for women and I'd include gay men considering Northstar's also involved in this. Here we have Ali acting completely insensitive and stupid and that's pretty much how he's portrayed her and Northstar since he's introduced them: Stupid, superfluous, and shallow, basically as total jokes. What's worse is I feel like he's not aware of this and just thinks he's doing them a favor giving them some page time.

Conclusion: While this issue is definitely drama-filled and sort of fun, there's nothing really new to be found here. Same plotlines and same problems with the creative teams, but definitely a more fun issue than we've seen lately.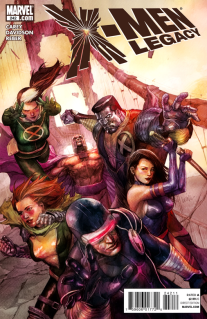 X-Men Legacy #242
Writer: Mike Carey
Artist: Paul Davidson
This issue marks the beginning of the brief Post-Second Coming rebuild arc which is oddly placed considering Second Coming's more or less already forgotten by now. Also, considering the last arc was pretty self-contained and could have easilly just have been moved to be after this one instead of before. That and Utopia and San Fransisco are already being drawn to be fully recovered by all the other artists, so we don't even get the visual need for this rebuild anymore.

The story this time around is basically three things: The rebuilding of Utopia, Omega Sentinel losing control over her systems, and Hellion's angst over losing his hands. Except Hellion's pretty justified in his angst, well, minus the fact that he keeps getting pissed anyone trying to help him. Rogue remedies this by deciding if he's not going to respond to sympathy then he's going to be put to work instead, and really, good on her for choosing that route considering how pissy he is to just
everyone
. However, he does bring up one good point that's pretty much on everyone's minds:




Um really. Considering the science team operates like magic, just conjuring something up every time there's a need, how hard is it to make convincing looking hands considering it's just really about throwing on some latex or wtfever to those robot claws?

Meanwhile, a team is gathered to rebuild San Fransisco which includes Random, Psylocke, Hope, Colossus, Omega Sentinel, Rogue, and Danger. You may notice that there's a lot of former villains on this list, and if you read the issue, it looks even worse considering how ominous Magneto looks throughout the entire issue with being just white coming out of the shadow of his helmet. Seriously, Mags, way to help people feel comfortable with you.

Another thing of note includes how the Hope baton is passed from Uncanny to Legacy as Carey gets his chance to deal with the mutant messiah. Hellion gets in a tiff with her over her not using her powers to help speed up the reconstruction. Magneto makes a biblical reference when commenting on Hellion's disbelief concerning Hope, speaking about Thomas the Apostle wanting to see Jesus' crucifixion marks to prove he was the messiah. And really, I'm right there with Hellion because since her introduction I haven't bought Hope as some sort of astonishing messiah, and I just don't see myself buying it any time soon. She's just Jean-lite, and really, half the time Jean herself was Jean-lite.

Speaking of characters who act like previously established characters, I'm surprised Carey put Psylocke and Omega Sentinel together considering how similar both their functions are on a team and just generally how they act. I mean, the similarity's not so strong that it's embarrassing, that'd only occur if Carey added Sage to the mix, but it's still an interesting choice. Also, I have to wonder why there wasn't a scene with Psylocke tried to talk to Hellion, maybe it's just me, but I'd be interested to have two TKs address their similarity and all that.

In the end, this issue is hardly spectacular, but it is certainly a good one. While the main plot is hardly worth discussing at length, and as you can see I didn't because I really couldn't, it's still a Carey-quality issue. Also, the art done by Davidson is sort of standard which is sort of disappointing because I really enjoyed his dark work on New Mutants. Conclusion: This is one you should only purchase with your spare change.